Do ya like a good music documentary or live concert movie? Me too. I don't make it out to see live music NEARLY as much as I used to, so sometimes living vicariously through a DVD is about the best I can do. Here are a few of my favorites -
Beastie Boys - "Awesome, I Fuckin' Shot That!"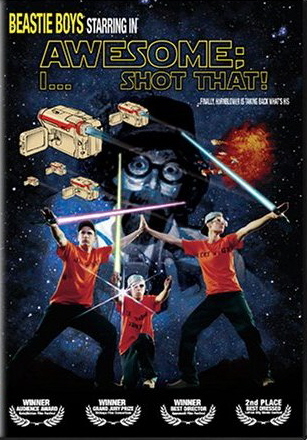 Much more of a concert video than a documentary, "Awesome, I Fuckin' Shot That!" took the novel concept of passing out 50 hand-held video cameras to an equal number of fans at the Beasties' 2004 Madison Square Garden show. As one would expect, the quality of the footage isn't always the greatest, but the advantage to shooting in this fashion is its immediacy. You absolutely feel like you are THERE every step of the way, and thanks to Nathaniel Hornblower's mad editing skills in the Avid suite (and the costume department), the sensation of being on as many drugs as the average Beasties show requires is more than achieved. It's an absolutely fantastic show from start to finish, and while I won't give anything away, the finale is probably one of the best moments in live music I've seen in a while. WARNING: If you are prone to motion sickness, this concert video's shaky-cam approach might not be for you. Or just rock some Dramamine and a funky barf bag. Your call.
Red Hot Chili Peppers - "Funky Monks"
To record their career-making 1991 album 'Blood Sugar Sex Magik', the Red Hot Chili Peppers holed up in a supposedly haunted mansion in the Hollywood hills. Director Gavin Bowden shot this documentary during those sessions, and the result is probably the most intimate and honest portrayal of the Chili Peppers anyone has ever seen. Anthony, Flea, Chad, and John are all still their wise-cracking selves throughout the doc, of course, but beyond that, various interviews and confessionals with each of the band members take us a little deeper inside each one of them and their motivations and aspirations in recording the album. If you're even the slightest fan of what in my opinion is the band's best and most coherent album, this doc is an absolute must-see. Watching the Peppers squirm while hanging by their feet from a pole 20 feet in the air for a photo shoot never fails to make me laugh.
Here's a clip from the doc showing John Frusciante getting straight-up ridiculous while laying down a solo. Fuck it up, Johnny!
Fugazi - "Instrument"
Arguably the greatest post-punk band ever, Washington DC's Fugazi culled together 2001's 'Instrument' as a 10-year anniversary present to the fans. I'm going to be honest here - 'Instrument' is not the greatest movie ever made. In fact, it gets absolutely infuriating in parts. There are far too many ridiculously artsy-fartsy and detached segments of the movie to escape criticism, its 2-hour running time is excessive, and the fact that not a single song is ever heard in its entirety throughout the flick DRIVES ME CRAZY. However, ask any die-hard Fugazi fan their opinion of 'Instrument', and they will tell you exactly what I would - it is absolutely essential. From the blazing live performances from every period of the band's career to Guy's hilarious and elaborate plan to assassinate George Burns right before his 100th birthday, 'Instrument' brings the goods (and bads) to any true fan's collection. Don't miss the accompanying soundtrack album, either. Little Debbie's mom gone CRAZY!